New Patients at Langlitz Chiropractic & Massage
We treat everyone the way we would want to be treated ourselves —
the way you would want someone to treat your mother.
Welcome! We are thrilled you found us and look forward to meeting you on your first visit. Please complete our new patient paperwork online. It's fast and easy and allows us time to review it ahead of your scheduled appointment.
If you have any medical records such as x-rays or MRIs, please bring them for us to scan into our electronic health records. If you were involved in an auto accident, please bring any information from the crash, such as police reports or Emergency Room paperwork. You'll also want to bring a picture ID and your insurance card as well.
Your First Visit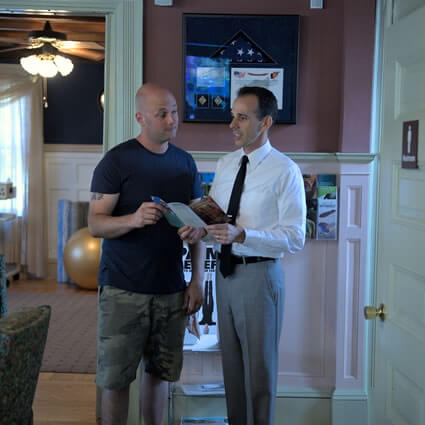 You will be welcomed by a genuine smile and greeting by name from one of our team who will explain any additional paperwork you may need and address any insurance questions you have.
You'll then have the opportunity to ask additional questions when the doctor or therapist meets with you. Our exam/assessment may include:
Orthopedic and neurological testing
Muscle testing, including strength and range of motion
A review diagnostic test results
If we think you're a candidate for care, and you are comfortable with our recommendations, we will schedule a follow up visit for care. If not, we will refer you to someone we think can help.
Duration:  up to 40 minutes.
This subsequent appointment is your report of findings if we were not able to address everything on our first day.   We will review what we found and how we intend to correct the issue.
If you so choose,  this will be a routine visit involving chiropractic care and any necessary therapy, or a massage therapy session.
Duration: 15-20 minutes for spinal care.
Duration: 30-90 minutes for massage.
You'll be seen promptly with little or no waiting time, so you can get on with your day. You'll see the doctor if you are in for chiropractic care and complete any therapies that are a part of your care plan with us. Or you may see one of our massage therapists.
We'll continually communicate with you on each visit so you know what kind of progress you're making and what changes we need to make so that therapy is effective.
Duration: 15-90 minutes
Patient Resources
Your involvement is crucial in this process. Understanding how things work can expedite repair and recovery and make your experience even better. You can do this online or in office with any of our team members. We have a library of educational literature, references and handouts we can share with you.  Or you can subscribe to our newsletter and read our blogs where we address different ways to  improve our overall  health and wellness. 
Many of Our Patients Have Asked…
Do I have to see a chiropractor for the rest of my life?
Many people have the idea that if they see a chiropractor once, they'll have no choice but to continue visiting us forever. Your condition and needs are unique to you, and we will fit your care plan to be exactly what you need.
Some problems are not as severe and will require fewer visits; others may require treatment for a longer duration. Periodic adjustments may be essential to some to stay well. Of course the choice is always yours. As "spinal hygienists," we remind our patients that prevention is the best medicine.
Get Started Today
We like to tell our patients that the five most dangerous words in the world are, 'Maybe it will go away.' We are here to answer any questions or concerns you have about seeking our natural healing care. Call today!

New Patients at Langlitz Chiropractic & Massage | (413) 732-4800